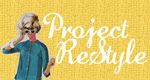 Elsie at
A Beautiful Mess
and Rachel at
Smile and Wave
are the master minds behind this
wonderful project. Basically, the goal is to create a project from old, unwanted clothing every week. Click the yellow button above to learn more about Project ReStyle!
My first project is one I've already mentioned. Remember, I picked up an XXXL t-shirt at the thrift store and turned it into a pair of leggings? Oh right, I didn't have a picture! ;)
Here's one:
I have to be honest, I surprised myself! They came out really good. What do you think?
Here's a before picture:
I also bought a red t-shirt and tailored it to fit me. The shirt has such a soft, slubby texture that I just had to have it. :)
It's the shirt I'm wearing in this photo:
I also wanted to show you my current spinning project. I'm plying it now:
Stay tuned, I'll be sharing a tutorial for the t-shirt turned leggings tomorrow! Edit (
Link
)
Also coming up:
-My current crochet/knit project
-Another pair of leggings I made (blue this time!)
-Some new jewelry